Do you know who Jane Goodall is?
If you're like me, you'd answer that question in the vaguest of terms: "Isn't she the environmentalist… likes monkeys… kind of homely?" (And now you've discovered my sad secret: I judge famous people by their looks–or at least classify them by their looks.)
Me…Jane by Patrick McDonnell doesn't give that much information about Jane, but it's enough to get a child interested, I think.
This picture book tells of the young Jane and her stuffed chimpanzee Jubilee. Jane loves to be outdoors and wants to learn everything she can about plants and animals.
She dreams of someday going to Africa, where she'd live with and help the animals.
Each double-page spread contains only a few lines of print on one side of the page and a softly colored illustration on the opposite side–until the last page.
"At night Jane would tuck Jubilee into bed, say her prayers, and fall asleep…
to awake one day…
to her dream come true.
The final page, with that final line on it, bears a photograph of the grown-up Jane holding hands with a chimpanzee in Africa.
---
The second Fiction Picture Book Finalist I read couldn't be more different than the first.
Where Me…Jane has muted colors, Press Here by Henre Tollet has bold colors. Where Me…Jane is written in past tense, with little action, Press Here is written in present imperative.
The picture: A bright yellow dot in the center of the first page. The imperative: "Press Here and Turn the Page."
One dot turns to two.
Press again, the next page has three yellow dots. Rub the dot on the left and it turns red.
In this high tech world where children play on iPads before they're potty-trained, Press Here is a delightful bit of magic.
With nothing more than pages and dots, Tullet creates a world of interactive fun.
But unlike with the iPad, this book lets kids see the mechanism–and be the mechanism. This is to the iPad what a flip-book is to cartoons–and (in my semi-Neo-Luddite mind) is ten times better than any "technological marvel."
Press Here has advantages beyond its novel concept, though. The primary-colored dots overlap to form secondary colored segments (like a Venn diagram, anyone?) The instructions help the child learn right and left (they can tell they picked the wrong side if the colored dots move in the wrong direction). At least one spread allows kids to do some trouble-shooting with pattern recognition (which dots are out of order?)
Mothers will delight in sharing this little book with their children–and will find endless ways of turning the simple text and even simpler graphics into learning opportunities for their preschoolers.
---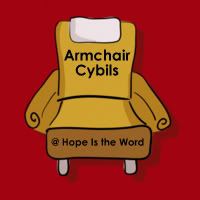 These books were both Cybils Fiction Picture Book Finalists. I read them as a part of Amy's Armchair Cybils. For the record, I'm rooting for Press Here for the big one.

Tags: Armchair Cybils, Henre Tullet, Me...Jane, Patrick McDonnell, picture books, Press Here
Comment RSS 2.0 feed.
Category: Books
Comment ◊ Trackback

---